3D RX – THE EVOLUTION OF RACKING
"Superiority" belongs to the strongest, safest pallet rack. By strongest we not only mean load bearing, but strength to withstand impact and torsional forces. The upright steel column is the backbone of any pallet rack system. None can compare to 3D Logistic exclusive closed tubular column which has 200 times more resistance to torsional forces than comparable open channel columns found in ordinary pallet rack. This tubular column also has much greater resistance to fork truck impact.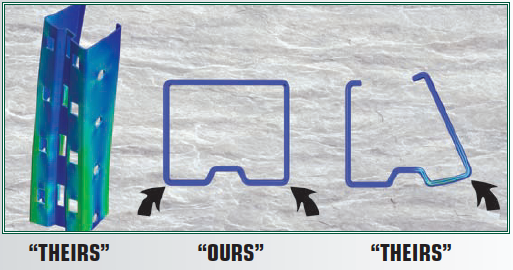 Add in tubular "X" bracing instead of standard diagonals on the uprights, the 6 point beam connection combined with a superior spring locking clip and you've got the very safest rack money can buy. Speaking of money, 3D Logistic pricing is comparable or less in cost to open channel pallet rack – so why settle for less than the best?
When purchasing your rack system, think safety, think product damage, think liability and think peace of mind. Then contact 3D, and we'll help you design a system that meets all of your warehousing needs.
The unique 3D RX column...for the strength and torsion resistance of closed column construction plus the compatibility with Redirack style racking.
Strength and Greater Impact Resistance – Any engineer will confirm the fact that a closed tube column is stronger than an open box channel. A closed column also inceases torsional resistance more than 200 times over any relative open shape. All 3D RX columns, beams, horizontals and diagonals are tubular. That's superior!
Damage Resistant Tubular X-Bracing – Decidely unlike the competition, our frame x-bracing provides support in both tension and compression. Closed tubes reduce catch points for pallets and loads when loading and unloading, and are cleaner than open backed channels.
Automatic Spring Beam Lock – 3D RX racking has a replaceable spring steel safety lock attached to the connector plate. It engages automatically when the beam is dropped into place. There is nothing to "forget", no bolts to install, no loose locking pins.
One Piece Label Saver Step Beam – The one piece seamless welded tube step beam offers high weight handling capacity and comes in a range of sizes from 23/4" to 6" high. The recessed front face provides a protected surface for bar code or numeric labels.
Lock-in Pallet Supports – Abuse resistant, zinc plated pallet supports easily snap into the slotted beams. Because the beams are slotted across the full length, pallet supports can be placed anywhere they are needed.